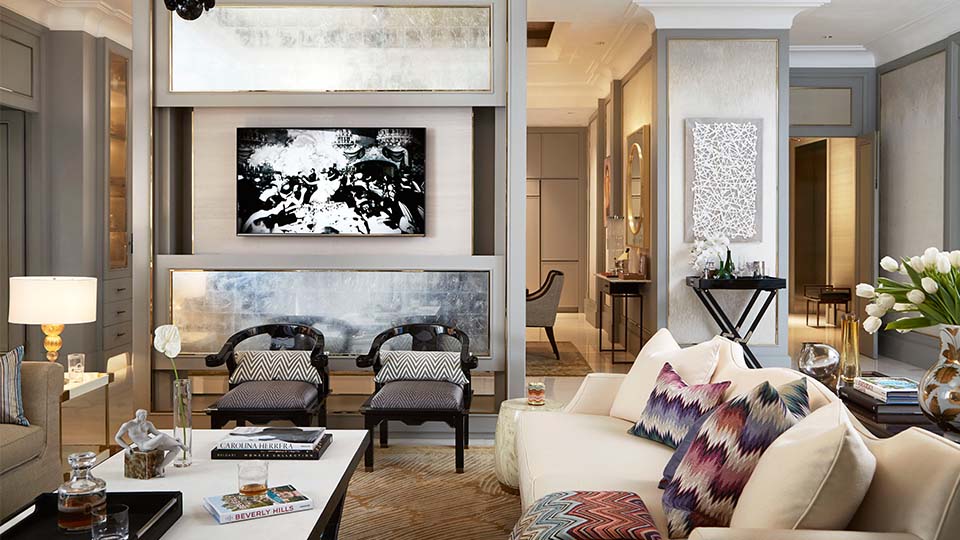 LIVING ROOM
The classically beautiful living room is furnished with incredible pieces. From Saint-Louis
Mystere black crystal chandelier, Baker sofas and chest all designed by world renowned
designers. All mystified with a little oriental touch from Bika Curated Accessories Collection.
Combined with highly lavish colour of Persian and sapphire blue on the soft furnishing and
lighter multi-coloured fabric options from Missoni Home. The living room is tastefully
decorated to luxurious perfection.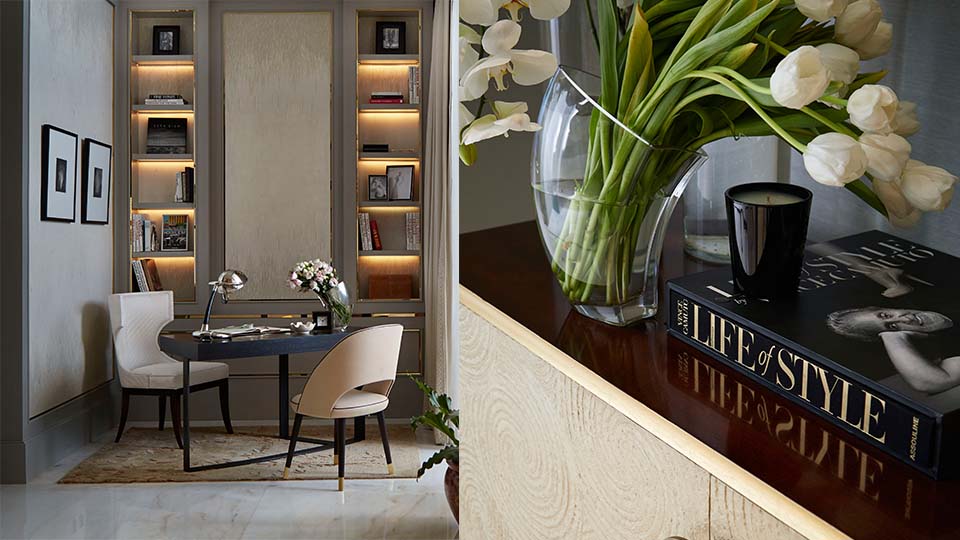 THE FOYER & BALCONY
Paired with the living room, the creative edge of a elegantly decorated study. Featuring a
contemporary study desk from Interni Edition with Ralph Lauren home desk objects.
The eclectic duo of single seats from Baker and Baxter, the terrace outdoor sofas from
McGuire, are remarkable pieces that complement the space to relax in.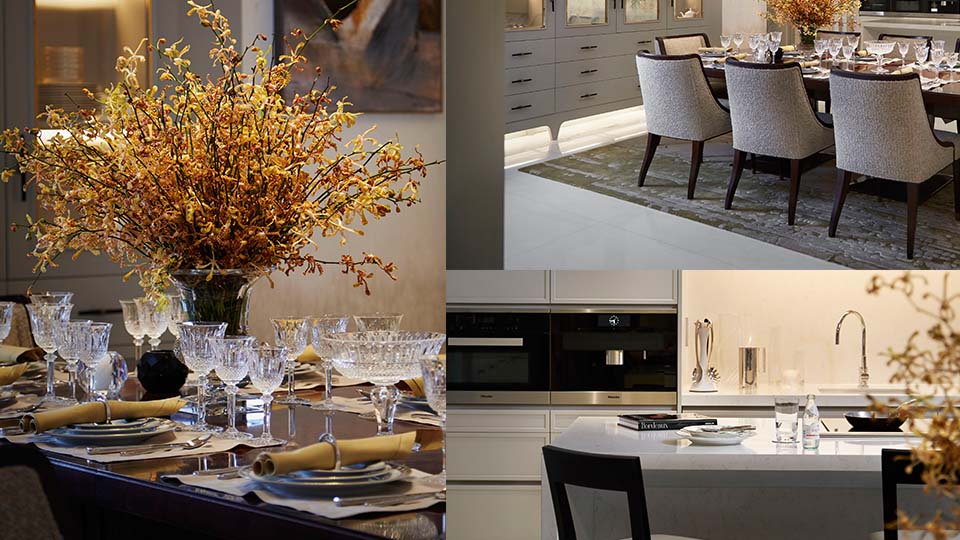 THE DINING ROOM
An interesting juxtaposition of the calming colour palette of the kitchen`s wall panels and a
sumptuous gold leaf finishing of the high ceilings, Saint-Louis`s-Vibration Chandelier
completes the luxurious atmosphere of the dining room. The Barbara Barry dining chairs from Baker furniture create a welcoming yet relaxing ambience. The Ralph Lauren Home tableware and Saint-Louis centre pieces are the perfect company for your dinner party. All are casually but yet beautifully arranged on a contemporary take of an American Classic Design extendable wooden dining table designed by Bill Sofield for Baker.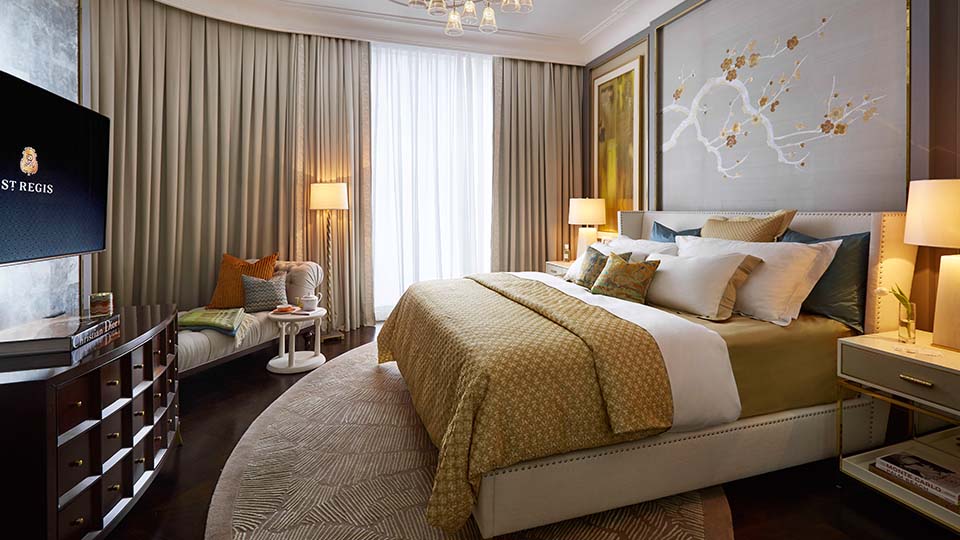 MASTER BEDROOM
The master bedroom warmly enveloped with beige, white & fold features luxurious
curve cornered broad windows, a gold-leafed ceiling with a custom pattern teak
flooring. The contemporary Saint-Louis crystal chandelier of Apollo creates a radiance
of captivating constellation in the purity of clear crystal. Delicately crafted embroidered
custom wallpaper of chinoiserie pattern is sandwiched between a pair of twin
gold-plated mirror and white glossy night standers with carefully selected
shareen-layered front drawer, all custom made by BIKA Furniture.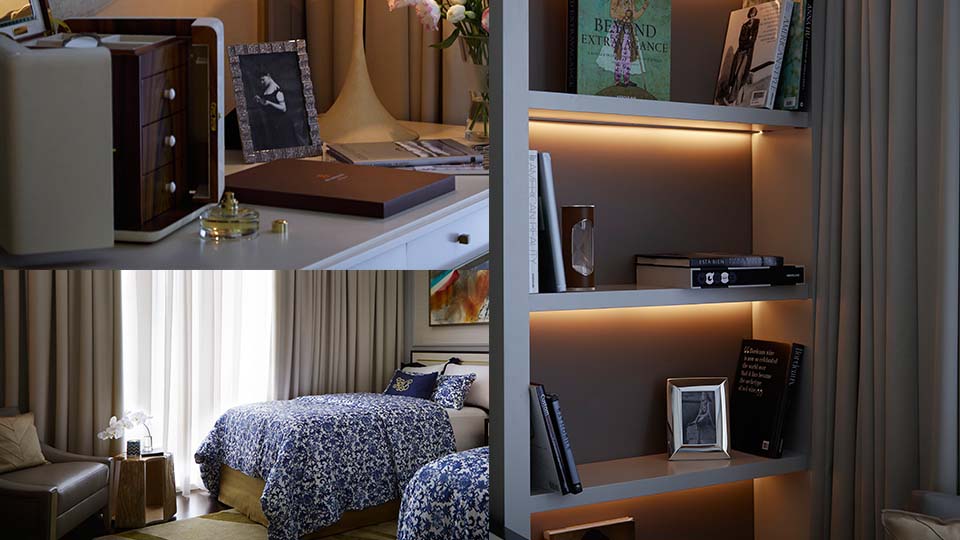 BEDROOMS
Drops of colour-chartreuse-green, lavender, pale yellow and multi-layered hues of blue dominate the calming warm-grey and beige, uniquely combined in the sylishly decorated bedrooms. From the perfectly chiselled gold cascaded lamp by McGuire, the Nogal Accent Low Stool from Laura Kirar for Baker, aesthetically bevel-cut Bonnington chandelier by Visual Comfort, all playfully arranged in the open book-case on booth sides of a antique writing desk from The Thomas Pheasant Collection for Baker.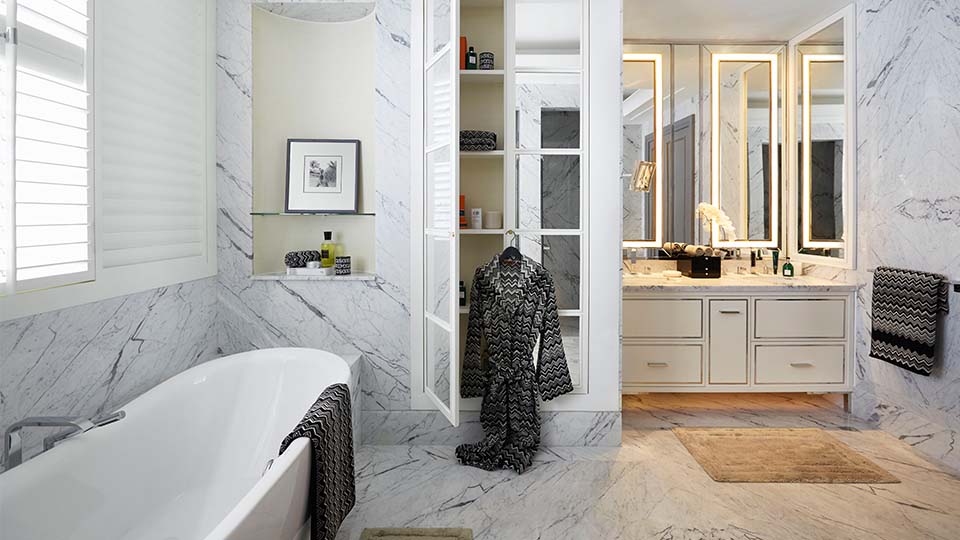 BATHROOM
Missoni Home black and white chevron bath collection perfectly compliments the austere
Statuario Italian marble flooding over the walls and floors. LED backlit accent mirrors and
Colonial Style Shutter windows create the opulence of monochrome beauty